Custom Built, Large Carbon Fiber Tubes up to 27.4" Diameter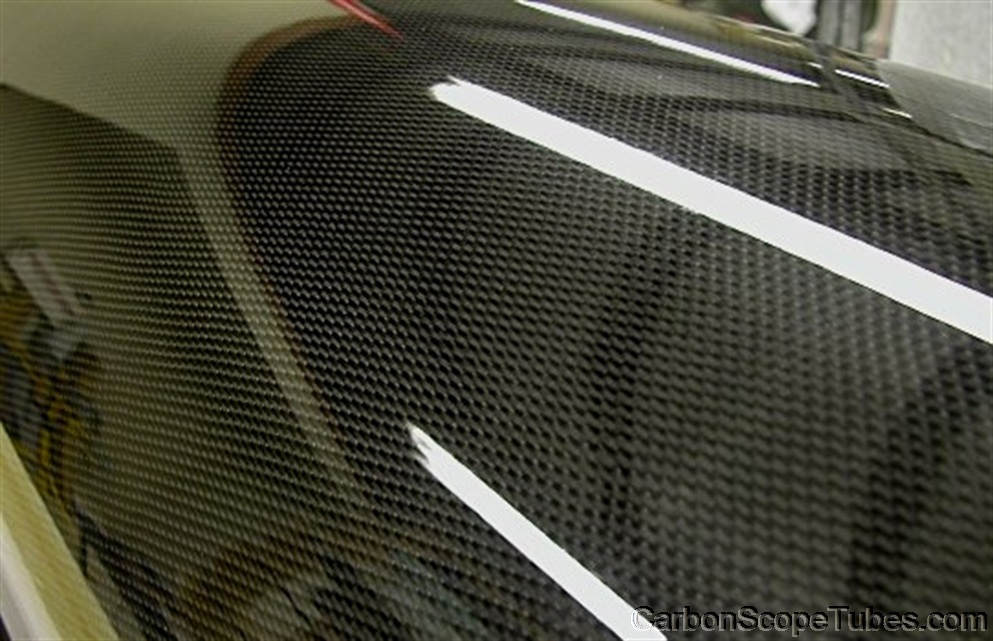 Tube Construction

Our specialty is building large carbon fiber tubes ranging in diameter from 7" to 27.4" (so far) with lengths up to 90". All of our tubes are made to order from the highest quality, 3k carbon fiber available. This is first-quality material direct from the (USA) manufacturer. The resins we use are specifically formulated in the USA for our particular processes.
Since all of our tubes are made to order, length and wall thickness can be tailored to meet your specific needs, including the options listed below.
When building the tubes, the carbon fiber is compression wrapped in a hi-temp epoxy matrix and cured at high temp over a precision mandrel. Fiber layup is 0/90 degrees, equally. The OD of the tube is epoxy coated, ground, and smooth sanded before urethane clear-coating and polishing. The tube is cut to length while still on the mandrel to assure squareness. Tube ID tolerance can be held to +/- 0.010" even on our largest diameters. Wall thickness can be held to +/- 0.005". Length +/- 0.015.
You can request a quote by following this link to our Large Diameter Tubes page.

Advantages

CST solid wall tubes are composed entirely of carbon fiber layers, without any fillers or core. This construction allows for easy cutting, drilling, slotting, and tapering without risking the integrity of the tube. You can even torque a bolt through the tube wall without any concerns of compression damage. Our large carbon fiber tubes are durable and impact-resistant, capable of withstanding accidental impacts without compromising the structural integrity of the tube. This makes our tubes ideal for field astrophotographers and scientists who need equipment that can withstand the demands of long nights and the occasional mishap.

Extremely low thermal expansion
High strength to weight ratio
Beautiful clear-coat finish
---
The CarbonScopeTubes
Advantage:
Carbon Fiber Tubes Tailored to Your Needs
•
Current diameter range 7" to 27.4" (so far) with lengths up to 90"
•
Solid wall construction (solid carbon fiber, no fillers or core)
•
Tube wall thickness from 0.05" and up
•
Two exterior finishes available; smooth sanded or polished UV-blocking clear-coat
•
Tube interior is naturally glossy, flat black painting is available
•
Cutting, drilling, milling, bonding available
•
Telescoping tubes and tapered tubes available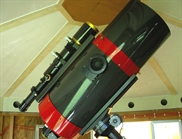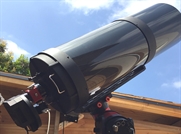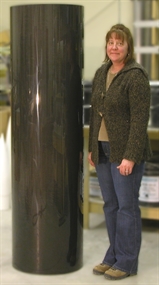 Get a quote today!
•
Structural housings for telescopes, metering tubes, and other optical instruments*
•
RF shielding for electronic assemblies
•
Medical imaging component housings
•
Capture Hoods for HVAC airflow measurement
•
Whenever you need low thermal expansion, light weight, high strength, etc.
Applications For Astronomy And Beyond
Urethane Clear-Coat Finish (Optional)

Our Premium carbon fiber tubes are coated with a two-part, automotive-grade urethane that is clear and glossy. To ensure the best quality, the clear coat is baked until it fully cures, after which it is polished to a mirror-like finish.
We specifically use a clear coat with excellent UV-blocking agents to minimize the impact of UV radiation on the epoxy resin. Other carbon fiber tubes without UV protection can yellow and degrade over time, which is why it's important to choose a tube with UV protection.


Ultra Flat Black Tube Interior (Optional)

We have spent a lot of time researching and testing different paints for our carbon fiber tubes to ensure they have excellent bonding to the material and a lower reflectivity than any paint we've ever tested. Our proprietary paint treatment is standard on our Celestron C-14 upgrade tubes and optional on all custom tubes. We have conducted extensive testing, including submerging the tubes in water at various temperatures for up to two weeks, to ensure the paint holds up and maintains its flat black appearance.


Hole Drilling and cutting (Optional)

Drilling a hole in our carbon fiber tubing is a quick process that takes only about 5 seconds with a high-quality drill bit. However, proper layout and positioning of the holes can be a time-consuming task that may take several hours. If you require custom hole layouts in your carbon fiber tubes, there will be an additional charge for this service. Rates vary depending on the number of holes and the complexity of the layout. A detailed drawing will be required for quoting.
Alternatively, you can choose to drill the holes yourself during the assembly process of your custom scope. Carbon fiber tubes can be drilled using any sharp drill bit in a power hand drill. However, for larger holes, such as those required for focusers, it is recommended to use a good-quality, fine-tooth hole saw to ensure a clean cut. With these simple tools, you can easily customize your carbon fiber tube to meet your specific needs.




*
Learn about the importance of low thermal expansion in optical structures by clicking here.
Get a quote today!